Provided Humanitarian Services to Over 588757 Deserving People.
Alkhidmat Foundation Pakistan is one of the leading, non-profit organization, fully dedicated to humanitarian services since 1990. Alkhidmat workers and volunteers continue to work tirelessly for the relief of affected people across Pakistan and worldwide. Our dedicated services include disaster management, health services, education, orphan care, clean water, Mawakhat (interest-free loan) and other community services.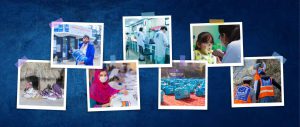 Donate Online
You can donate online using any Visa or MasterCard. You can also request a cheque or cash pickup.
Direct Deposit
Direct deposits or transfers can be made into our accounts at any of the banks. Select your preferred bank from the list to see the Alkhidmat Foundation Pakistan account details. If you wish to receive a receipt acknowledging your Zakat or donation after making a direct deposit, please email us at info@alkhidmat.org .
Home Collection
You can donate through cheques or bank drafts made out in favour of "Alkhidmat Foundation Pakistan". To have these cheques picked up from your doorstep, simply call at 0800 44 44 8 or 0304 111 4 222 and Alkhidmat's representative will collect it. You can also send your cheque by courier to: Alkhidmat Complex, 3km Khayaban-e-Jinnah, Lahore, Punjab, Pakistan.